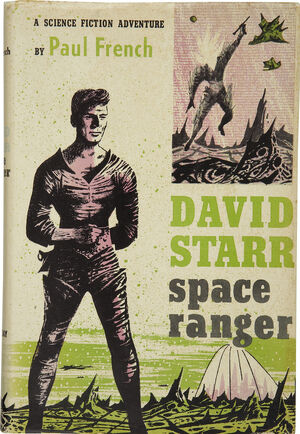 David Starr, Space Ranger is a science-fiction novel by Isaac Asimov.
The first book of the Lucky Starr series, it was published by Doubleday in 1952 under the pseudonym Paul French.
Characters
David Starr, known as Lucky Starr, cover name Dick Williams
Dr. Hector Conway
Dr. Augustus Henree (Gus)
Manning
Eugene Forester
Oliver Gaspère, manager of the Café Supreme
John Bigman Jones (Mars)
Hennes (Mars)
Griswold (Mars)
Zukis (Mars)
Mr. Makian (Mars)
Benson (Mars)
Jonnitel
Dr. Silvers
Places
Café Supreme, Earth
International City, Earth
Turm der Wissenschaften, Earth
Wingrad City, Mars
Landis Hotel, Mars
See Also
Community content is available under
CC-BY-SA
unless otherwise noted.