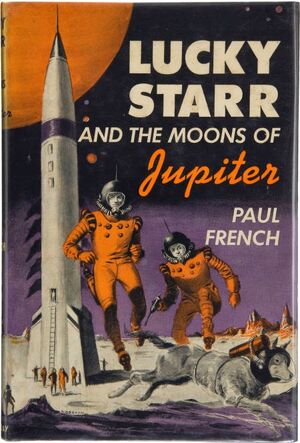 Lucky Starr and the Moons of Jupiter is a science-fiction novel by Isaac Asimov.
Part of the Lucky Starr series, it was published by Doubleday in 1957 under Asimov's pseudonym, Paul French.
Characters
David Starr, known as Lucky Starr, cover name William Williams
John Bigman Jones
Kommodore Donahue
Dr. Hector Conway
Leutnant Augustus Nevsky
Red Summers
Armand
Harry Norrich
Mutt, Norrichs guide dog
James Panner, Chief Engineer
Major Brant
Major Levinson
Ships
Shooting Starr
Jovian Moon
Places
Jupiter Nine, Adrastea, outer moon of Jupiter
Jupiter Five, Amalthea, inner moon of Jupiter
See Also
Community content is available under
CC-BY-SA
unless otherwise noted.