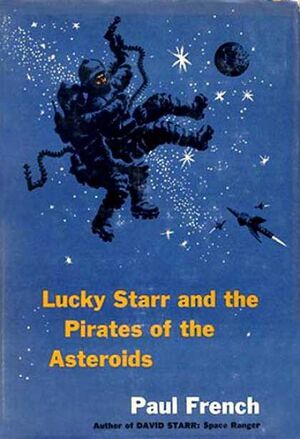 Lucky Starr and the Pirates of the Asteroids is a science-fiction novel by Isaac Asimov.
Part of the Lucky Starr series, it was published by Doubleday in 1953 under Asimov's pseudonym, Paul French.
Characters
David Starr, known as Lucky Starr, cover name Bill Williams
Dr. Hector Conway
Dr. Augustus Henree (Gus)
Captain Anton (Pirate Captain)
Dingo (Pirate)
Martin Maniu (Pirate)
John Bigman Jones (born on Mars)
Joseph Patrick Hansen (Eremit from Metis)
Bert Wilson
Lem Fisk
Ships
Atlas
Shooting Starr
TSS Waltham Zachary
Places
Earth
Moon
Ceres (Asteroid)
Metis (Asteroid)
Patsys Bar (Moon)
See Also
Community content is available under
CC-BY-SA
unless otherwise noted.